| Ubicación de Altos de Chavón | Clima | Dónde Hospedarse | Cómo llegar | Mapas de Altos de Chavón | Disponible en Español | Cuéntanos tu historia de viaje!
THE VILLAGE ALTOS DE CHAVON

In 1976, on a verdant plateau 100 miles east of Santo Domingo (the historic capital of the Domnican Republic) an extraordinary cultural undertaking began to unfold.

Dominican stonecutters, woodworkers, and iron-smiths combined their crafts to create the rich architectural landscape that would emerge as Altos de Chavon.

Today this vibrant cultural village perched high above the Chavon River embodies half a millennium of the island's finest tradition of crafts and art.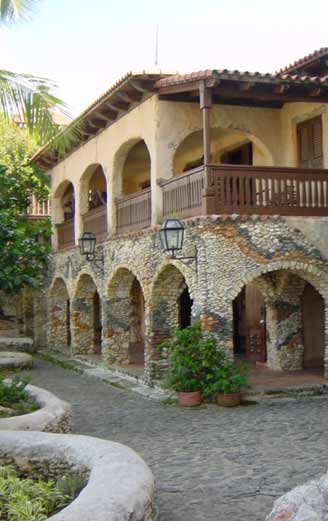 The distant mountains of eastern Hispaniola merge with the sea to create the perfect setting for this celebration of the region's past. Nearby is Casa de Campo, one of the Caribbean's most complete resorts.
A walk down the cobblestone paths of Altos de Chavon reveals, at every turn, architecture reminiscent of another era. Coral block and terra cotta buildings enfold craft workshops, artists' studios, galleries, shops, and restaurants. Complementing this tranquil evocation of the past is the exuberant artistry of today.
The Altos de Chavon craft ateliers are small production centers where trained local artisans execute ceramic, silk-screen, and woven-fiber products. These works are at once respectful of the island's history yet boldly international in design concept and quality.
From the lively clay apothecary jars to the brightly colored tapestries found in traditional Dominican houses, the craft ateliers keep the richness of island myth, folklore, and handcrafted expression very much alive. The posters, note cards, and printed T-shirts produced by the silk-screen workshop are among the most authentic in the Caribbean.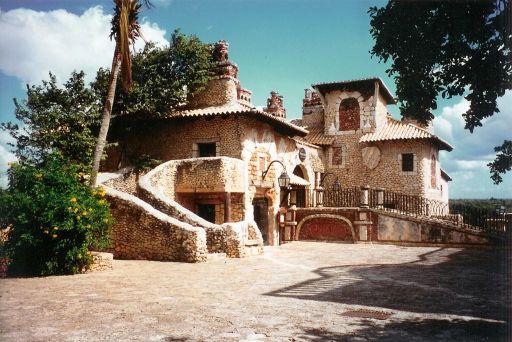 The performing arts are showcased in the village's spectacular 5,000-seat open-air amphitheater.
Since its inauguration in 1982 by Frank Sinatra and Carlos Santana, the amphitheater has hosted concerts, symphonies, theatrical events, and festivals featuring such renowned artists as Julio Iglesias, Gloria Estefan, Sergio Mendes, Dizzy Gillespie, Air Supply, Pilobulos, and the Dance Theater of Harlem.
The village is a vital source of inspiration, professional training, and artistic expression. Diverse educational and artistic programming, in a breathtaking natural and architectural setting, provides Altos de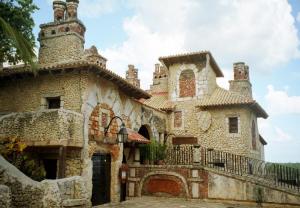 Chavon with its unique ability to stimulate creativity and cultural interchange.